Promoters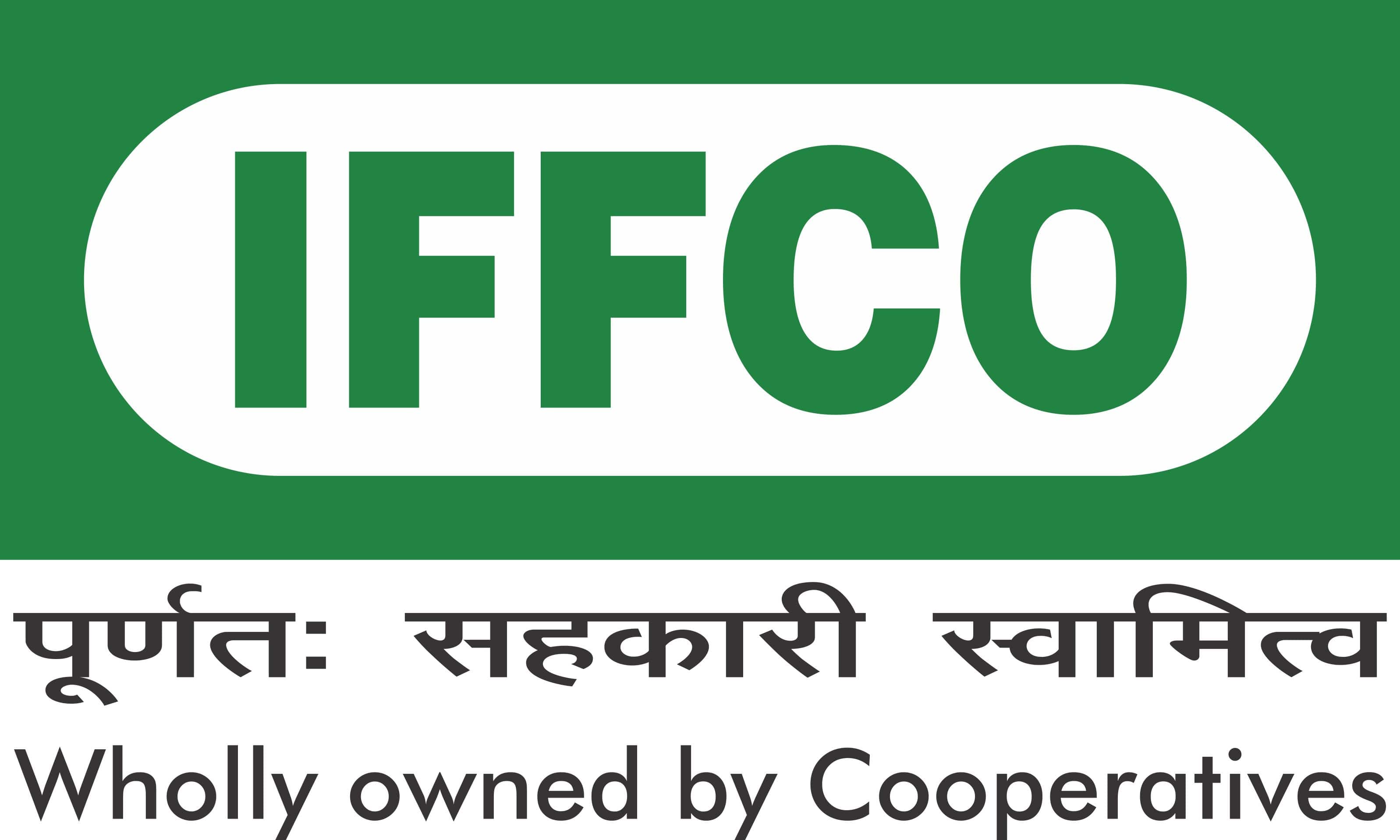 Indian Farmers Fertiliser Cooperative Limited (IFFCO) is the world's largest fertilizer manufacturer & marketer in the cooperative sector. It was incorporated on 3rd November, 1967 and since then is committed to achieving its prime role of providing quality fertilizer and agricultural services to India's farming community. Over the years, the cooperative society has evolved into a gigantic Indian Multinational and set records for excellent and consistent performance in the field of production, marketing, and services to farmers. As a society "of the farmers, by the farmers and for the farmers", IFFCO has firmly established itself as a true Cooperative and perfect role model for others to emulate on the path of economic development.
IFFCO has steadily grown from strength to strength from a modest membership of 57 societies in 1967-68 to more than 36,000 societies at present. The initial equity capital of ₹6 lakh contributed by cooperatives in 1967-68 has also risen to ₹4.26 Million in 2010-11. Having the Largest Market share of Fertilizer Production in India with 30% in Complex Fertilizers and 21% in Urea it has also become the First Cooperative in India to set-up first-ever Kisan SEZ (Special Economic Zone) at Nellore, Andhra Pradesh.
At IFFCO, the thirst for ever-improving the services to farmers and member co-operatives is insatiable, commitment to quality is insurmountable and harnessing of mother earth' bounty to drive hunger away from India in an ecologically sustainable manner is the prime mission. All that IFFCO cherishes in exchange is an everlasting smile on the face of Indian Farmer who forms the moving spirit behind this mission. IFFCO, today, is a leading player in India's fertilizer industry and is making a substantial contribution to the efforts of the Indian Government to increase foodgrain production in the country.
IFFCO holds 51% shareholding in IFFCO-Tokio General Insurance Company Ltd.
Please visit their website for more information: http://www.iffco.in/
Tokio Marine Group

TOKIO Marine Asia Pte. Ltd holds 49% shareholding in IFFCO-Tokio General Insurance Company Limited. TOKIO Marine Asia is a subsidiary company of Tokio Marine Holding Inc Japan; a holding company for Tokio Marine & Nichido Fire (TMNF) Insurance Company.
Tokio Marine & Nichido Fire Insurance Company has over 140 years of experience in the general insurance business and is the largest and oldest general insurance company in Japan. It is a member of the highly diversified Mitsubishi group comprising over 600 companies.
The company is rated 'A'+ by international rating agency Standard & Poors.
Based in Singapore, today TM Asia is an established regional headquarters and intermediate holding company, based at the Tokio Marine Centre in Singapore. Our organization oversees 12 regional companies in 7 countries, which employ over 5,000 people across the region. This includes 7 General Insurance companies and 5 Life Insurance companies. TM Asia is with 100% shares held by Tokio Marine & Nichido Fire Insurance Co., Ltd. TM Asia also holds the shares of its regional companies which are widely represented in Asia with operations in Singapore, Malaysia, Thailand, Indonesia, Philippines, Vietnam, and India.

TM Asia provides support to new and current business activities for both Tokio Marine P&C and Life insurance operations within the region. TMAsia's expertise lies in providing management and technical support to new business activities, as well as the development and enhancement of products and services.
For more information, please visit their website: http://www.tokiomarineasia.com/